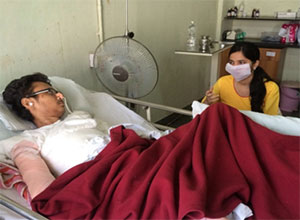 Psychiatric management in Burns:
Psychiatrist and Clinical Psychologist aim to reduce the distress and improve the psychological well-being of patients. They use psychological methods and medications to make positive changes to their patients' lives and offer various forms of treatment.
Clinical psychologists often work alongside with psychiatrist in multidisciplinary teams in order to tackle complex patient problems.
Typical work activities
Assessing a patient's needs, abilities or behavior using a variety of methods, including psychometric tests, interviews, and direct observation of behavior.

Working as part of a multidisciplinary team alongside doctors, nurses, social workers, education professionals, health visitors, psychiatrists and occupational therapists.

Devising and monitoring appropriate program of treatment, including therapy, counseling or advice, in collaboration with colleagues.

Offering therapy and treatments for difficulties relating to mental health problems such as anxiety, depression,addiction, social and interpersonal problems and challenging behavior.

Providing consultation to other professions, encouraging a psychological approach in their work.

Providing short-term and longer term scientifically-based treatments for issues such as grief, adjustment difficulties, stress, anxiety, trauma, depression, relationship problems, and stress secondary to medical diagnoses/illness.