OPERATION RESTORE
Free post burns corrective surgery camp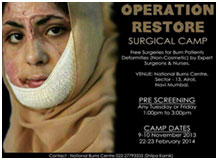 (non cosmetic) for socio-economic deprived strata. 
Operation Restore is an initiative by the National Burns Center & Rotary Clubs of Rotary District 3140 
Every year in our country, over 10 lakh people are moderately or severely burnt, about 2 lakh succumb to injuries and as many as 5 lakh develop contractures. Even if the victim's life is saved, contractures, in most cases, makes their life miserable. So, for rehabilitation in burns, a free post-burn deformity corrective surgery camp is conducted at NBC since 2011.
Thus, the main objective of the Operation Restore camp is to correct the functional deformities and help the economically challenged burns survivors to lead a near normal life who could not afford the corrective surgery.
In this camp Burns patients are surgically treated to correct functional, non-cosmetic deformities and contractures, reducing the patients' disabilities and improving their quality of life at no cost to the patients.
Objectives of Operation Restore
To correct the functional deformities and help the economically challenged burns survivors to lead a near normal life who could not afford the corrective surgery.

Develop basic awareness regarding 'Burn prevention and First aid in Burns'.

Provide counselling

Rehabilitation

Follow up regularly
How it Started
Operation Restore was first started in 2011 by Rotary Club of Deonar with the help of the Operation SMILE team(USA based NGO). Three camps (first two years) had been successfully organized with the SMILE team at National Burns Center (NBC). 180 patients benefitted from these 3 camps.
After the 3rd camp(Operation Smile), the methodology was modified. Now, 2 to 3 camps are organized in a year instead of one camp every year, to ascertain better post surgical treatment and follow-up. In each of these camps, about 20 patients were operated upon over a span of two days. Thus, the subsequent 12 camps referred to as "Operation Restore" camps were organized by National Burn Center (NBC) in which the SMILE team could not participate.
Some of the Salient features of Operation Restore are as follows:
Complete treatment including pre-opearive screening, corrective surgery, and post-operative care are provided absolutely free of cost for poor patients

Operation Restore has so far benefitted more than 200 patients from all over India including from faraway places like Kerala and Chandigarh

Extensive burn related deformities which affect the functional abilities of the patient are corrected

The burn deformity surgeries are conducted by specialized team of doctors including surgeons and anaesthesiologists, and nurses, with specialized experience in the field.

Doctors scrutinize each case carefully as each burn related deformity is an unique one, and a thorough investigation procedure needs to be formulated for each surgery

Each corrective surgery takes several hours

Post-surgery follow up is equally important because such burn related deformities are at a very high risk of infection
Why Operation Restore – The Problem of Burns
Hundreds of persons get burnt every day and a number of them die every day

Treatment of burns in a hospital is very costly – beyond the reach of the underprivileged

Even if the victim's life is saved, disfigurement or crippling disabilities follow in most cases making their life miserable

Majority of the most crippling burns cases in India are young housewives where the quality of life is impacted severely
PRIZE DISTRIBUTION CEREMONY 2016
OPERATION RESTORE JULY 2016
OPERATION RESTORE 2016 - Camp's
CME 2016
VISIT BY Dr. ANDREW BURD 2015
NUMBER OF PATIENTS BENIFFITED IN LAST 3 YEARS CAMPS- 150
Previous year's cases
OPERATION RESTORE- 2013
Considering the huge success of Operation Restore in the previous years and the number of underprivileged patients in our country, the Operation Restore was carried out this year in association with various Rotary Clubs of Rotary Dist. 3140.
Participating Clubs
| | |
| --- | --- |
| RC Deonar | President- Capt. Tushar Gangoly |
| RC Bombay North | President Mahendra Thacker |
| RC Bombay Central | President Ramesh Daswani |
| RC Bombay Worli | President Sandeep Shah |
| RC Chembur (Mumbai) | President Uday Shankar Jha |
| RC Mumbai Cuffe Parade | President Rajul Parikh |
| RC Mumbai Lakers | President Ravi Jaswani |
| RC Thane North End | President Dr Girish Patwardhan |
| RC Bombay Bayview | President Rajesh Sheth |
| RC Bombay juhu Beach | President Sanjiv Zaveri |
| RC Bombay Pier | President Asif Adiji |
| RC Airoli Link Town | President Deep Kapadia |
In year-2013, there were 3 camps conducted
Camp 1 – 30th March-1st April 2013 
Highlights of Camp-1
17 surgeries were performed successfully.

Point to be noted that out of 17, 3 were men and remaining women

The treated patients were from Mumbai and as well as far away places. Patients from Northern Maharashtra (Dhule), Marathawada (Aurangabad and Nanded), Western Maharashtra (Sangli), Karnataka (Gulbarga dist.), Utter Pradesh were benefitted.

Each patient's case is a story that how operation restore has actually helped them RESTORING their life.

Medical team consisted more than 100 specialists.

The specialists includes doctors, specially trained nurses, students and volunteers.
Camp2 – 1st- 2nd June 2013
Highlights of Camp-2
Total 18 patients benefited from the surgery camp.

80% of them were women and children

The treated patients were from state of Maharashtra and its neighboring states.
Camp 3 – 9th-10th November 2013



Highlights of Camp-3
Total 25 patients were screened for camp 3

Of which 15 patients were treated successfully.

There were 5 male & 9 female patients.

Patients from far off places in Maharashtra like Nan durbar, Dhulia, Satara, Baramati, Pune and also from the neighboring cities of Mumbai came for the surgery camp.
EDUCATIONAL & TRAINING EVENTS IN 2013
Every year NBC organized 4-5 events
NBC believes that the standard of our burn care in our country cannot improve unless skilled and passionate Burn Care- professional are developed. So training & development of skilled manpower is one of the fivefold objective of NBC to uplift the standard of Burn Care in the Country.
Events in 2013:
School education program on "BURNS PREVENTION AND SKIN DONATION"

Round the year training program for physiotherapy interns on "Critical care nursing in burns".

Round the year training program for physiotherapy interns on "Burns Physiotherapy"

Training of research students from various parts of India including IITs at Skin regeneration Laboratory at NBC.

Skin Bank training of plastic surgeons and the lab technicians from various part of India at RCBN skin bank at NBC

Training of fire brigade personals of Mumbai and Navi Mumbai fire brigade in " FIRST AID AND PRIMARY MANAGEMENT OF BURNS AT SITE OF INJURY"

Vocational Visit of Various Schools and college students
Seminar Organised by NBC in YR – 2013
CME on Burns – Burns Update on 3rd Jan 2013
Research Symposium On Stem Cell & Regenerative Medicine On 13th July 2013
CME on Burns – Burns Update on 24th Aug 2013
Physiotherapy Seminar – Symposium On Physiotherapy In Burns On 30th Nov 2013
Rotary Club Of Bombay North Felicitated The Families Of The Donors:
Inauguration of State-of-Art Intensive Burns Care Unit (IBCU) and New Skin Regeneration Lab.
Date: 2nd August, 2009
The newly built state-of-the-art Intensive Burns Care Unit (IBCU) and state-of-the-art Skin Regeneration Laboratory of National Burns Center, Airoli was inaugurated on 2nd August 2009 in the hands of chief guest Dr. F.E. Udwadia (noted Physician & pioneer of ICU care in India).The President of India Burn Research Society (IBRS). Mrs. Sandra Shroff gave the welcome address to the invitees and explained the background of IBRS. Dr. Sunil. M. Keswani the noted Plastic Surgeon and the honorary Secretary of the IBRS described the need of a holistic burns care management like education, training, prevention, treatment & research under one roof, as his late father & founder of National Burns Center Dr. M. H Keswani had dreamed of about three decades ago. He described the NBC success till date .The ideas of treatment to all (irrespective of rich or poor) was emphasized .Rotary District Governor T. N. Subramanium emphasized the need for continued community burns prevention exercise and the measures Rotary and IBRS are taking. A presentation was made by Dr. Vishal Warke about the burns injury therapy by culturing skin cells in the laboratory and making cost effective skin substitutes. He also outlined the noble idea of creating a Bio skin bank at N.B.C in near future. Dr. F.E Udwadia described about how how Intensive Care Unit was born in 1930s as an extension of operation theatre recovery rooms.
Inauguration of Skin Bank
Date 21st November, 2009
The state-of-the art world class skin bank was inaugurated on 21st November 2009 in the hands of Director of Euro Skin bank Dr. Bodha Welsly . This bank is set up in association with rotary club of Bombay North, Rotary Club of Leiden, Amsterdam and Euro Skin Bank, Netherland. (The World largest and the busiest skin bank).Several eminent personalities graced the occasion including Mr Vijay Nahata (Municipal Commissioner, Navi Mumbai.), Dr. Satya Agrawala (President of rotary Club of Bombay North),Mr Ondracek Wolfgangm (Rotary Club of Leiden, Amsterdam), Dg Rotarian T N Subramaniam (Rotary Dist 3140). The technical expertise is given by the Euro Skin bank. Every year two of our Doctors go on one week training at the Euro Skin Bank. With the world class infrastuture and technical support this Skin bank is set to a become a model skin bank for all other satellite skin banks across the country.